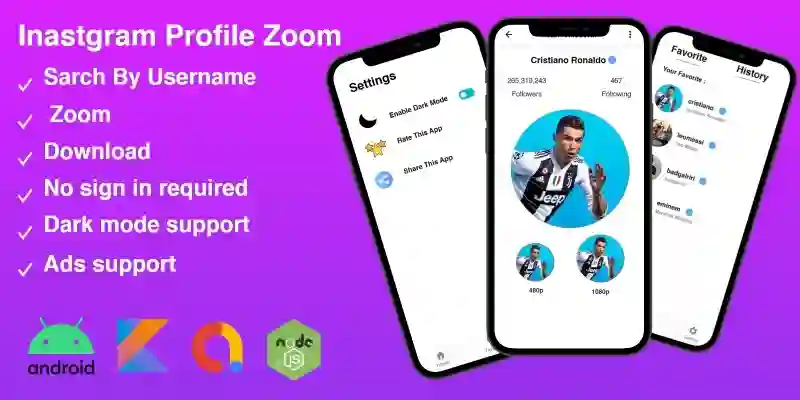 Ways To Zoom Instagram Profile Picture
For a long time Instagram users have been struggling to pop open the display picture (DP) in its original screen size, but have not exactly been able to find the accurate and best way possible to do this, until now. With AI enabled tech making lives easier and things that once seem near impossible now possible this is not that big a task. This guide takes you through different ways you can zoom Instagram profile pictures and get a full zoomed in HD view of the image.
The need for zooming in Instagram profile pictures
Public accounts on Instagram have their posts/ videos open for everyone to view, this still opens a window for Instagram users to view images and identify the owner of the account or whether it is the original account or is someone trying to impersonate the original account, whereas for private accounts this cannot be done. The content from private accounts is hidden until they accept your follow request. In this case Instagram profile pictures are the only thing that can help you identify accounts, but to our disappointment Instagram restricts viewing of Instagram profile pictures in their original size. This is where you need tools or ways to zoom the profile pictures in order to identify accounts, distinguish between original and impersonating brands or for just viewing the profile picture of a loved one.
Solutions ways to zoom Instagram profile pictures
There are multiple ways we could solve the problem of Instagram profile picture enlargement; here are all the possible ways you can zoom in on a profile picture and also ways to download the same to your device.
Zooming in profile picture on android device:

Maximum Instagram users are android users today, but aren't aware of the accessibility options on their device. These options give you a way to zoom Instagram profile pictures. To use this feature,

Simply go to settings of your android device.

Now tap on the accessibility option, in certain android devices you can find this option under "general", so tap on "general" in settings and then tap on "accessibility" option.

   

Next turn on, "magnification gestures" option. On some devices under accessibility option, tap on "vision" option and then turn on "touch zoom"

Now you can pinch on screen to zoom the objects to a larger size.
Now simply open Instagram profile and pinch and zoom screen on the profile picture to get a larger view.
Zooming in profile picture on iOS:

If you are an iOS user this trick will help zoom in on profile pictures easily. Just like you read above about the screen zooming option for android, iOS devices also have this option of letting users zoom in on screens. This feature helps users to enlarge profile pictures and get a closer look. To activate the screen zoom feature on your iOS device, simply tap on the settings option > general > accessibility > zoom. This enables the screen zoom in feature, now all you need to do is go to Instagram and pinch the screen to enlarge any Instagram profile picture simply.
While these methods make it possible to get a closer look at the profile picture, the option of zooming in on screen would not allow you to view profile pictures in HD or download them, but the next method surely will.
Third – party apps:

There are multiple third-party apps available on chrome, play store and app store that allow you to zoom in on Instagram profile pictures. These apps have a dedicated AI powered API Index based tool that asks you to enter the username of the person and then uses the username of any user to display a full size original Instagram profile picture of the user. Not just this, these tools also provide you the option to download the profile pictures to your device.
There are multiple Instagram profile picture zooming tools available online, but most users fear misuse of personal data, unauthentic websites and download of apps from unknown sources. Hence we found the perfect option for you, the Instazoom app. this app works for free, does not require you to add any personal information for use, or link your Instagram account, moreover it makes your browsing experience more safer by not storing what you searched or downloaded using their app. it's 100% safe and easy to use and does not require any heavy downloads as well.
Using a PC to zoom profile pictures:

If you are someone who uses Instagram on PC you can zoom in on profile pictures easily using chrome. The chrome search engine is one of the easiest ways to zoom in on profile pictures. All you need to do is open the Instagram app on your PC and open the Instagram profile of the person whose profile picture you wish to zoom in on. Next you can see a URL being displayed in the search bar, copy this URL and open a new window in chrome browser. Now paste this link in the search bar and tap enter. The profile will open on the

browser

. Now right click on the profile picture and tap the "open image in new tab" option. The image will be displayed in its original size, simply right click on this image and tap the "save image" option to download it and save onto your PC. This is a safe to use method and does not involve any heavy downloads or apps.
The Instagram in-app method: Instagram has recently dropped its latest update on zooming profile pictures. Instagram users can now tap on the profile picture to double its size, zooming in on the profile picture to some extent. Can't say this makes the profile picture absolutely clear but it does make it recognizable. The profile picture is still displayed in the circle rather than a full zoomed image, but it works for people who just want a sneak peak. If the Instagram user has posted a story on the app, you cannot view their profile picture as clicking on the icon will play the story from that profile and not the profile picture.