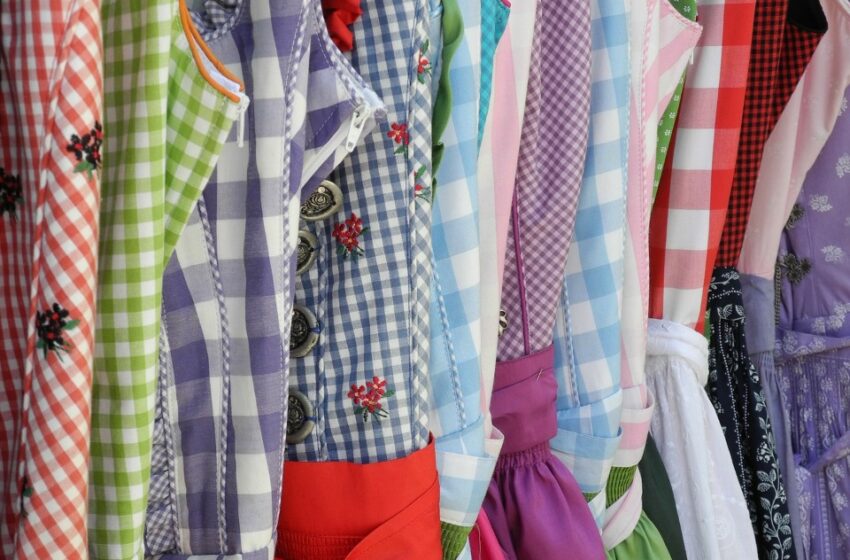 How does a dirndl dress turn a vogue trend from work clothes?
A dirndl dress has progressed extensively over the years. It is no longer referred to as work clothes but a fashion trend. Back in the 19th century, it was known as a working-class dress. It had three components: a high-waisted skirt, a blouse and an apron. However, all these are still present in contemporary dirndl dresses.
If we talk about vintage dirndls, it takes us back to the mid-1900s when maids or village women used to wear them. It was a symbol of respect and tradition in Bavaria and Austria. The tradition continues, and a German dirndl dress still has roots in its tradition intact. There is a culture of not wearing a dirndl dress way too short at the Oktoberfest. You should be careful, as it signifies disrespect to the locals. 
Nonetheless, a contemporary look of dirndl dresses is modest and best suited for an Oktoberfest. Let's take a closer look at today's modern dirndl.
Dirndl Dress: A contemporary outlook
A dirndl is a well-balanced dress that is a perfect way to celebrate womanhood. Most importantly, it adds a great touch of uniqueness in its way. Every woman wearing a dirndl dress to the Oktoberfest doesn't mean that all will look alike. Every dress has its details, and you can pair your dress with unique fabric, colour and embroidery. Or maybe you can try out a striking coloured apron to a simple dirndl. The number of combinations in dirndls is infinite.
Let's examine a dirndl deeply and how you can customize it as per your fondness.
Range of fabrics
The biggest benefit of dirndls today is that it doesn't restrict their wearer to certain fabrics. You can have it in any fabric of your choice. The fabric range used in dirndls are
Cotton

Corduroy

Silk

Velvet

Laced/net
There are multiple layers of clothes in a dirndl. You can wear a laced dirndl blouse to showcase an alluring attire. Or in a corduroy fabric, if it's cold. Not only in a dirndl blouse but you can have a variety of fabrics in aprons too. You can opt for a silk apron to add a shiny touch to your dirndl dress. You can even spice it up if you wear a neon-coloured apron. It's never a bad idea to don an electrifying outfit to an energetic event like Oktoberfest.
Electrifying colours
You won't have a hard time picking your favourite coloured dress, as a dirndl dress is available in every colour. The idea of getting in every shade makes a contemporary dirndl unique and trendy. Previously a dirndl was only witnessed with traditional colours. It was merely a working-class uniform, so it was available in black, blue and soft pink. It was a sober dress with little to no details on it. However, today it is conveniently available in every colour. You can have a wide range of contrasting colours in dirndls. 
Moreover, a printed or patterned dirndl is also a great fit for your wardrobe. The all-new range of dirndls have a lot to offer, be it striking colours, eye-catchy prints or v-necklines. You can never ask for a better dress than a dirndl.
Stylish outlook
A dirndl can provide you with a glamorous look and an everyday laid-back kind of look. It is how you want your dirndl dress to be. You can customize a midi or long/short skirt length dress. These dirndls have created waves among women around the world. The reason is it has everything a woman wants a dress to be. A gorgeous dress in vibrant colours, also it has a vintage blouse which gives you traditional dress vibes. You can add more details to your dirndl blouses with floral embroidery, buttons and ribbons. 
A dirndl is not only a perfect party outfit, but it can also be the best alternative for casual dresses. Let's say you live in the countryside and want to revamp your wardrobe. An extensive range of dirndls has various options available. You can have as many dirndls at the most affordable rates for daily wear. You don't have to worry about your dress getting dirty while doing house chores. A dirndl apron will save it from dirt and spots. It's high time you should pick your favourite German dirndl right away.
Best selling German dirndl dress is now within reach at an affordable price
A traditional dirndl dress at a pocket-friendly price is no longer a dream but a reality! You can now avail best of dirndl dress for sale offers at Dirndl Online Shop. The store provides numerous dirndl dresses in vivid colours. Moreover, they offer customers discounted prices upon purchasing two or more dirndl. You have the premium quality fabric of dirndls at this store. The chances of getting a fallacious dress are rare as they have plenty of happy customers worldwide to testify to it. There is no such thing as playing blind here, as your payments are secure and protected via money-back guarantees and authentic delivery partners. 
They have prints, fabrics and colours as good as their customers. Seal the deal today!
Also read homemade pocket pu