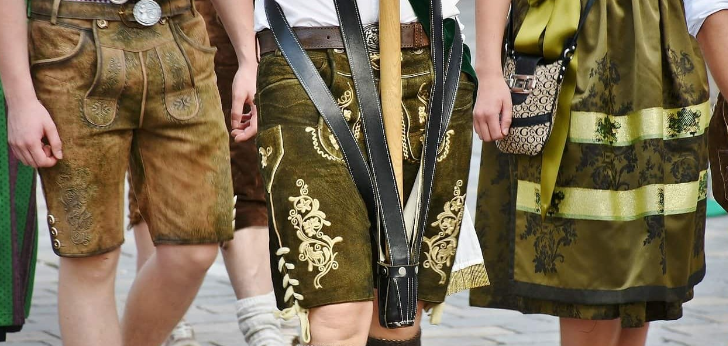 5 types of shirts you can pair up with your lederhosen men
The most prominent feature that brings out the best in a lederhosen men's outfit is the shirt that you pair it up with. Trendy patterns and contrasting colors can make your shirts stand out from the crowd at Oktoberfest and we're sure you want to swoon all the gorgeous German ladies. 
But with so many options available in the market, it might seem impossible to choose one that will fit right into your taste and budget too. We have lined up a brief list of all the shirts you can combine with lederhosen so that you don't have to exhaust yourself in exploring stores. 
Oxford Shirts
The Oxford shirt, a menswear staple that shares its name with the Oxford fabric from which it is made, has formed the foundation of many fashionable dresses for more than a hundred and twenty years.
Compared to most of the shirt fabrics, the fabric is relatively thick, attributing a flamboyant look to it. Common design elements that also make this top simple to maintain are a button-down collar and a hanging loop on the rear side of the yoke.
The Oxford button-down shirt is the quintessential, basic style of shirt for men. It is one of the most adaptable items for the lederhosen men's costumes since it functions as a classic core component for a variety of dress standards.
Overshirts With A German Lederhosen Outfit
The difficult transitional phase between the two climatic extremes, that is summer and winter, is infamous for making it difficult to put on a good outer layer in autumn.
But fortunately, we have overshirts. The overshirt's adaptability is what makes it so beautiful. When the temperature is warmer, it makes a fantastic light jacket. 
On cooler days, you may also layer up, which is ideal for Oktoberfest, a festival that takes place in the fall. It is possible to dress up or down the overshirt. 
Darker overshirts can be worn to more formal situations or even festivals, whereas lighter colors are usually more casual and can be paired effortlessly with the German lederhosen outfit. 
Flannel Shirts
The fall season's essential shirt is the flannel one. The fabric, which is tightly woven wool or cotton, perfectly polished for softness, is the main cause for its usage in the fall festive season. It is equally cozy and toasty. 
There are also a tonne of patterns—typically large plaids and buffalo checks—as well as a frequently boxy shape that flatters practically everyone. There are also solutions that are more specialized. 
Once the weather starts to cool off, it's impossible to avoid the profusion of flannel at local beer festivals in Germany, which is commonly worn with the lederhosen outfit. 
Chambray Shirt
When compared to the twill weave used for making denim, chambray uses a plain weave, which produces a lighter fabric. Because of this, chambray shirts are a perfect alternative if you enjoy the way denim looks but find it a bit extravagant for your style. 
This kind of shirt is practically a mainstay in terms of fashion because it goes well with almost everything.
The chambray men's shirt couldn't be more simple to style due to its adaptability. Making sure it doesn't match your German lederhosen costume too closely is one of the key factors so that the lederhosen's prominence is not dominated by the shirt.
Floral Prints
This might seem like a not-so-quintessential choice and totally over the top, but we swear by the floral designs. Some people might even call you out for wearing a feminine print as a guy, and especially with a sturdy outfit like the German lederhosen outfit. 
However, if you give it a shot, you will not regret it. The floral patterns give out a confident, cold, and independent vibe to the guys. 
It will be a perfect fusion of contemporary styles with a classic German dress and you will look exceptional at the festival if you opt for this design. 
Plaid And Big Checks For Lederhosen Men
Checks are always in style in some way. But this year, the windowpane, buffalo, and Black Watch tartan are the ones to keep an eye on during the fall months. 
One of the easiest ways to incorporate these patterns into your German lederhosen men's ensembles is using an overshirt or flannel shirt as a canvas. You can work your way up with this basic canvas and make countless variations for your outfit. 
Since lederhosen does not come in quirky patterns and is nice and simple, a hint of pattern using the flannel shirts or checks will give the whole outfit the right amount of oomph needed for looking exceptional at Oktoberfest. 
Colors Of The Shirts
After deciding which patterns you want, you can move onto choosing the right kind of tones for the shirts. There are several options to combine with the brown tones of a lederhosen. Let's take a look at them. 
A dark burgundy or wine-red shirt is one of the sexiest options for young men attending Oktoberfest. It will help you look smart, elegant, and poised all at the same time. So we suggest you invest in a nice red toned shirt along with the lederhosen. 
The second option we have is the classic black button down with a rustic brown outfit. It will not only accentuate your facial features, but perfectly complement the whole vibe. And one can never go wrong with black now, can they?
Last but not the least, a white button down shirt is the traditional option that originates from Germany and the native men typically combine this with their lederhosen because it brings all the attention to the whole outfit.
With a chic style of shirt, you must buy a lederhosen men's outfit that complements the top. Lederhosen Store has different options, patterns, and color options for this piece of clothing at affordable prices. 
Also read: Flewed out movie 2020 trailer